You will need to replace the back glass of your iPhone if it breaks due to an impact. But replacing it is not an easy task. You will need to have technicians who are capable of doing it. These technicians in Bellevue Hill and Bondi Beach will need to have the necessary skills. Otherwise, your device can get damaged. In fact, along with the necessary skills, the technicians will need to have a deep understanding of the iPhone. They need to have the knowledge of how the components are encased and how damage can be averted during the back glass replacement procedure. Anyway, let us now take a look at a few more reasons why you will need to have capable professionals when it comes to the replacement of the back glass of this device.
Expertise in Determining the Replacement Methods 
You will need skilled technicians performing iPhone back glass replacements in Bellevue Hill and the other suburbs since they can quickly inspect your device and figure out the method that they should use to keep it safe. The techniques for replacing iPhone back glasses vary depending on the model, and this is where seasoned technicians excel. They know the ins and outs of the models which helps them replace the back glasses without causing damage.
Naturally, to replace the iPhone back glass, the usage of the right tools is required. This is where skilled techies stand out since they use them with precision to provide their clients with flawless results. Most importantly, they know how to use these tools which a newbie might not know. So, if you are planning to get the back glass replaced, make sure your chosen technicians have the latest equipment in their inventory and the expertise in using them.
On-Time Back Glass Replacement
The third reason why you will need to take your iPhone to a reputable mobile phone repair shop where skilled technicians work is that you can get the job done on time. 
Due to years of experience in iPhone component repair and replacements, these professionals can promptly do the needful to satisfy their clients. 
One of the top reasons why you require experienced professionals in the domain of iPhone back glass replacements in Bondi Beach and the other suburbs is that they can assure you the best outcome.
Since they hardly make any mistakes, rest assured that the replacement will be flawless. On top of that, these technicians will provide high-quality replacement parts. Thus, you can get peace of mind if you have them.
Finally, you will get a warranty with the iPhone back glass replacement only from skilled technicians. Due to their high-precision work that is done with perfection, they provide this feature. In fact, this is yet another reason why they are so popular.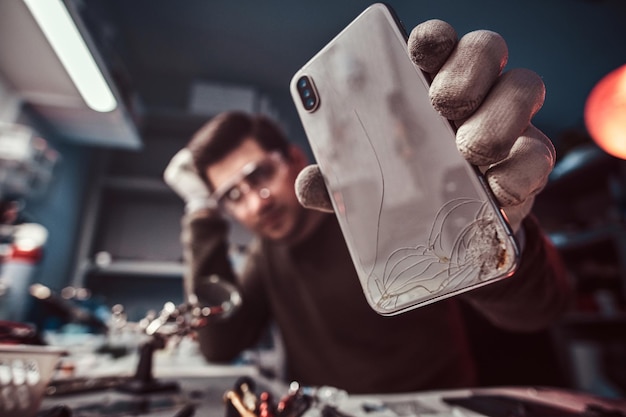 Now that you know the reasons for letting the back glass of your iPhone be repaired by skilled technicians, you should book an appointment with them without delay.
Let Us Replace Your iPhone Back Glass Today
At Hocotech. Rose Bay, we will give a new life to your device. So, bring it to us now. You can also call 0413428177 to get the iPhone back glass replacement price or to book an appointment with us.